File a Claim
At Your Service
Roof Painting
Home /Roof Painting Roof painting is becoming more and more common in areas that get lots of sun and harsh weather. There are more questions than answers when it comes to getting information about this process.

Some of those questions are:

• What are good roof paint brands?
• Is there a specific paint for my roof's condition?
• Should I use a heat reflective paint?
• Should my roof be pressure washed before painting?
• What's the best way to deal with rust or mold?
• Should my roof be primed before its painted?


Treating roof painting like a simple DIY job can end up costing you twice as much if the process is done incorrectly.

We provide a wide range of roof restoration services:

• Cleaning
• Paint Preparation
• Leak repair
• Install Roof Membrane
• Assist in selecting best roof color

We use only top quality roofing paints.

Call for a Quote 855-767-9283 or send us a claim.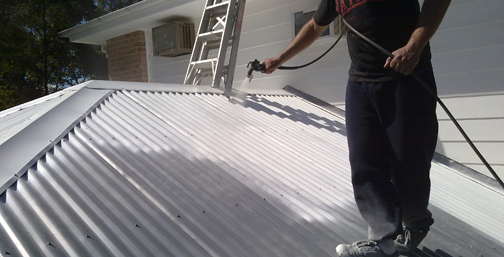 Roof Painting:
---

Emergency Tarps and Covers

---

Roof Cleaning

---

Roof Membrane Installation

---

Shingle Roof Painting

---

Wood Roof Painting

---

Metal Roog Painting

---

Leak Repair

---

Help with roof color selection


2009 ROOFING EXPERTS, ALL RIGHTS RESERVED